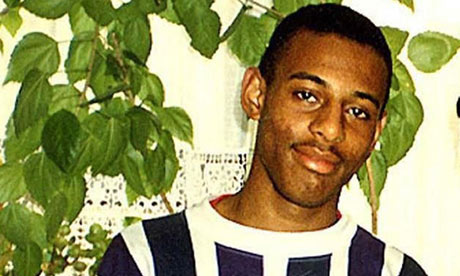 Police
have a list of nine remaining suspects for the murder of Stephen Lawrence, including the Acourt brothers and Luke Knight.
During the latest investigation into the racist killing detectives looked at 187 suspects who had been identified by the previous Met inquiry in 1999.
Detective Chief Inspector Clive Driscoll, the senior investigating officer, said his investigation team had eliminated most of these individuals.
They were left with 11 suspects, including Dobson and Norris, Neil and Jamie Acourt and Luke Knight – the five men who were named by the Macpherson report as prime suspects for the killing. The Old Bailey jury has heard that the Acourts and Knight were suspects for the murder and were arrested along with Dobson and Norris two weeks after the killing.
With the conviction of Dobson and Norris, the investigation into the Lawrence murder remains open and Driscoll appealed for anyone who might have information to come forward...

read more
http://www.guardian.co.uk/uk/2012/jan/03/stephen-lawrence-police-nine-suspects
http://smileyculturelies.blogspot.com/2012/01/leicester-police-held-vital-information.html